Las Vegas, USA: Once again, the Consumer Electronics Show is underway. For the fifty-second time. This year's introduction of the tech nerd boom couldn't be more dramatic. A few days into the year – a few days before this year's CES kicks off – Apple reported a failed iPhone sales. At the same time the president is fighting "here" against the Democrats in the House. It's a feud that shut down parts of the state apparatus, and led to several speakers at CES to report their absence.
The apple tree does not reach heaven
Analysts, the tech industry, and other tech geeks from around the world have been reminded that not all trees grow in the sky. And the willingness to pay for marginal promotions can be low. It attests to a limited interest value of the latest drops from the latest release.
The Apple experience is not new. All products have their own. Fortunately, there are many other products, solutions, and areas that will see strong growth in the coming years. Thus, our prediction is that many of the world's CES geeks don't have to hang their heads at all. Here it is enough to be cheerful. And in any case, Apple has never been a company that distinguished itself at CES – on the contrary. Steve Jobs and Company. Instead, he arranged his own show in Silicon Valley.
Now CES is not what it used to be – when car stereo, TV, video, DVD technology, satellite radio and speakers were among the main attractions of the show. At that time, the focus was almost exclusively on the consumer segment. However, in recent years CES has become increasingly important as a playground for those of us who believe that the most important development will now happen in related fields – also outside of focusing on tools for personal use.
Yes, by and large it is still all about gadgets. Luckily. But it is now increasingly about software, sensors, data sets, and systems. It was eventually combined with machine learning.
Health becomes important
An example of how CES is now developing, and becoming an increasingly important arena for technology development in many areas, is the Digital Health Summit (DHS). DHS is being held this year for the tenth time as part of CES. Here in Las Vegas.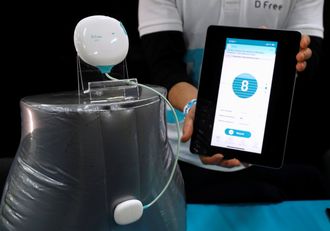 The Digital Health Summit offers lectures and product launches far beyond the traditional consumer sector. This year's health topics are many:
How to reduce obstacle cycles in the health care system (not a particularly Norwegian phenomenon)

Case for DNA analysis and mapping

New hearing aids

Sensors in clothes (so-called fabric computing)

Sensors in general (yes, IoT)

How knowledge derived from digital mapping of different human parameters can contribute to a change (health promotion) in behavior (a real nut)

New and alternative treatments for diabetes

Improve heart monitoring and data usage

Swallow Sensor (swallow!)

How hospitals can collaborate with tech startups

How technology can help ensure the quality of an ever-growing aging population (who should be able to support themselves in the best possible way)

Discussions about how technology can be used to map Alzheimer's disease early

How technology can help reverse the ever-increasing trend of suicide (especially among young people)
The discussions, of course, cover blockchain, 3D printing, therapeutic robotics (exhaust structures), and much more.
sexy progress
Technology development for consumers continues to accelerate. And we at TU have it as usual with us, too. Whether in television, mobile technology, processing power, voice control, drones, self-driving vehicles, electric vehicle launches and more.
We still think it's even more exciting with the development that consumer technology has given us both directly and indirectly in areas such as health and medicine. This is also where we look forward to the most exciting developments and innovations in the coming years. Thus, you will be able to offer exciting companies that will provide good returns in markets that are far from saturated. The thirst for solutions and products will be almost unsatiated for decades to come.
Perhaps it could be a consolation for frustrated tech investors who were hoping the apple tree would grow higher in the sky. At the same time, it must be remembered that there is no doubt about any disorder.
Apple has come back hard before. Who knows. Perhaps the company is just beginning to invest in the lucrative health sector? In the latest version of the Apple Watch, they launched, after all, groundbreaking ECG monitoring – in addition to the fact that their Health app has been constantly improved.
Perhaps it will be as it always has been: "An apple a day keeps the doctor away."